Patty's Pumpkin Patch
by Terri Sloat
Focus Story: Patty's Pumpkin Patch by Teri Sloat
Companion Story: Pumpkin Pumpkin by Jeanne Titherington
Companion Poem: 'Pumpkin, Pumpkin'
Day 1
Prior Knowledge:
Show several real pumpkins. What time of year do we typically see the most pumpkins? Why might we see them mostly in the fall? Where do we see pumpkins? What do we know about pumpkins? Interactive write with the children what they notice about a real pumpkin. What outside traits do they see(exp. color, texture, size) ? Cut one of the pumpkins and have students also note inside traits such as seeds, pulp, smell, etc. Write all observations on a pumpkin shaped sheet. (Printable Pumpkin Observation Sheet)
Focus Story:
Introduce the cover, title, and author of Patty's Pumpkin Patch. Have you ever been to a pumpkin patch? Who might Patty be? Open the book and tell students that they will need to focus on the large pictures. We will be discussing the bottom ABC pictures at another time. As you have students look carefully at each page, ask questions, such as the following….
Intro. – What season does it look like? Why do you think that?
AB – What is Patty doing? What tool is she using? Who might be riding the tractor? What is the purpose of the tractor and equipment in the field?
CD – Continue to ask students to describe what they see Patty doing. What do all plants need ion order to grow? (water, soil, air, sun)
EF – What is happening below the ground? Above the ground?
GH – Now, what do we see above the ground? What is different?
IJ – What is Patty holding? What is starting to grow? Are the pumpkins ready to be picked yet? Why not?
KL – What color are the pumpkins now? What is Patty doing?
MN – What season does it appear to be now? How is the tree different from the first page in the story? What is Patty doing? Have students make predictions about what Patty might do with all of her pumpkins that she is harvesting.
Read aloud for enjoyment and to see how story ends.
Companion Poem:
Introduce the fun companion poem, 'Pumpkin, Pumpkin'. Read the poem chart aloud, letting students add the corresponding Velcro pictures for each line. Reread with the students, showing them motions they can do to accompany each line.
Printable Pictures for the 'Pumpkin Pumpkin' Poem Chart
Day 2
Companion Poem:
Reread the companion poem, 'Pumpkin, Pumpkin', enjoying the related motions. Reread again, pointing to each word on the chart. Find the rhymes and orally brainstorm additional rhymes for /ound/ and /ee/.
(b, f, h, m, p, s, w) -/ound/ (b, h, k,/n/, p, s, t, w) - /ee/
Companion Story:
Introduce the title, author, and illustrator of the story Pumpkin Pumpkin. Show the cover. Have you ever seen a pumpkin so large that you could sit on it? Where might the boy be? What do you think this story may be about? Read aloud the story for enjoyment. Then, have each child plant a pumpkin seed! As it grows over the next couple weeks, watch it grow and keep a journal of the changes!
Focus Story:
Reread Patty's Pumpkin Patch. Then, let children search for the hidden animals on each page. For any unfamiliar animals that the students come across, model for them how to look the words up in a dictionary and/or encyclopedia to learn more (exp. junco, nuthatch, pheasant, vixen, xylem, etc.).
According to the needs of your class, you may want to do the following with ABC Pumpkins.
A) Match upper/lower letters to a picture that begins with that same sound.
B) and/or Put the letter pumpkins in ABC order.
Day 3
Focus Story:
Have students listen for rhymes on each double page spread as you read Patty's Pumpkin Patch. What can we make to eat from a pumpkin? (pumpkin pie, pumpkin bread, pumpkin pudding, pumpkin muffins, pumpkin dip, roasted pumpkin seeds, pumpkin cookies, etc.) Read 'Pumpkin Pie' concept booklet and make pumpkin pie.
Companion Story:
Reread Pumpkin Pumpkin. Sing'From Seed to Pie' as shown below. Pass out pictures that correspond to each verse in the song. As you sing the song, have kids come up holding their picture according to the order in the song.
From Seed to PieTune: 'The Farmer in the Dell'
(by Diane Donovan as found inThe Mailbox –Preschool, The Education Center October/November 2003)
The seed is in the ground.
The seed is in the ground.
Hi-ho, the pumpkin patch!
The seed is in the ground.
Additional verses…
The seed grows a sprout.
The sprout grows a vine.
The vine grows a bloom.
The bloom grows a pumpkin.
We make a pumpkin pie!
Companion Poem:
Reread the companion poem, 'Pumpkin, Pumpkin'. Reread again, pointing to each word on the chart. Have the students use wikki stix or a fly swatter to mask certain letters, and sight words such as 'and, you, on, the, in, a, then, me.'
Day 4
Companion Poem:
Reread the companion poem, 'Pumpkin, Pumpkin'. Reread again a few times, allowing volunteers to point to each word on the chart. Have children 'be the sentences' and put the four sentences in order to form the poem. For each sentence, let one child hold the sentence and one child hold the corresponding picture.
Companion Story:
Reread Pumpkin Pumpkin. Create a class pumpkin patch mural . Have students make handprint pumpkins, paint vines, leaves, blooms, etc. Once dry, have students help label the dirt, pumpkins, vines, flowers, stems, sun, colors of the pumpkins, etc.
Focus Story:
Reread Patty's Pumpkin Patch. Then, show students a large pumpkin cut out, with seed clipart containing pictures of items beginning with different sounds. Children have to take out 'seeds' with a certain sound as you chant ….'Pumpkin pumpkin big and round, filled with pulp and seeds with the (insert sound) sound.'
Day 5
Companion Poem:
Reread the companion poem, 'Pumpkin, Pumpkin'. Have children 'be the words' for one sentence at a time. For each sentence, assign one child per word and one for the corresponding picture for the sentence. Then, give each student their own take home booklet. Students glue one sentence on each page, under the matching typed text. They then illustrate each sentence.
Focus Story: Reread Patty's Pumpkin Patch for enjoyment.
Companion Story:
Reread Pumpkin Pumpkin. Use the corresponding Pumpkin Pumpkin pocket chart from McCrackens. Place pictures in chart to sequence the story. Reread to check. Add phrases. Retell the story, pointing to and reading the phrases from the chart as you come to them. Then, let students individually sequence the growth/life cycle of a pumpkin. (Pumpkin Life Cycle Clip Art to print form from A to Z Teacher Stuff
Related Read Aloud Stories/Poems:
Focus Story: Patty's Pumpkin Patch by Teri Sloat
Companion Story: Pumpkin Pumpkin by Jeanne Titherington
Companion Poem: 'Pumpkin, Pumpkin'
The Stubborn Pumpkin by Laura Geringer
From Seed to Pumpkin by Wendy Pfeffer
Our Pumpkin by Renee Keeler
The Pumpkin Patch by Elizabeth King
It's Pumpkin Time by Zoe Hall
Too Many Pumpkins by Linda White
The Pumpkin Patch Parable By Liz Curtis Higgs
The Biggest Pumpkin Ever by Steven Kroll
Pumpkin Soup by Helen Cooper
The Fierce Yellow Pumpkin by Margaret Wise Brown
Runaway Pumpkin by Kevin Lewis
I Like Pumpkins by Jerry Smath
Pumpkin Circle: The Story of a Garden by George Levenson
The Pumpkin Patch by Elizabeth King
Pumpkin Day, Pumpkin Night by Anne F. Rockwell
Plumply, Dumply Pumpkin by Mary Serfozo
It's Pumpkin Time by Zoe Hall
P is for Pumpkin: God's Harvest Alphabet by Kathy-jo Wargin

Possible Cross Curricular Connections:
Art:
1. Students mix red and yellow paints to make a pumpkin.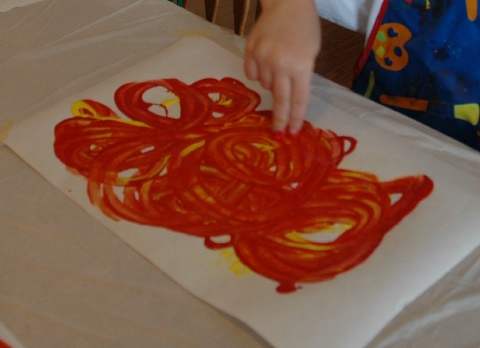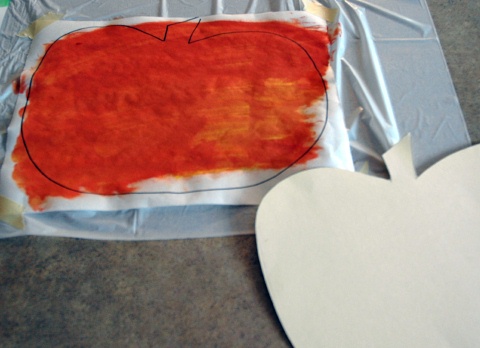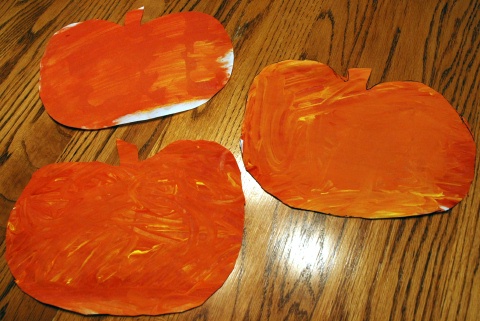 2. Create different jack o lantern faces on paper. Vote as a class which one to actually have an adult carve onto a class pumpkin.
Math:
Make great discoveries with a pumpkin! Weigh pumpkins and compare it with weights of other items. Measure the circumference. Measure the height. Do pumpkins float? Have students record their discoveries in their own Pumpkin Discovery Booklet. (Here is an alternate version using 'Our' for a class booklet.)
Pumpkin Color Wheel
Count pumpkin seeds into groups of 10
Roast pumpkin seeds and eat!
Sort real pumpkins by size and height
Place several real pumpkins in order from largest to smallest. Stress ordinal positions of first, second, third, etc.
Pumpkin Area - Predict the number of real pumpkin seeds it might take to fill the inside area (or outside area) of the pumpkin cut out. Have students count and test their prediction. Did their neighbor get the same results? What would cause the numbers to be different? (size of seeds, way seeds are placed, etc.)
8. Using pumpkin math mats, similar to the ones shown above, state oral story problems in which students manipulate the real pumpkin seeds to show beginning addition and/or subtraction.
9. Pumpkin Necklaces – Write a numeral on each pumpkin cut out, sequence and lace onto a piece of yarn, then attach the corresponding number of seeds to each.
10. Pumpkin Patch Patterns – Make several long card stock vines. Children place pumpkin cut outs (green, orange, circle, oval) on the vines to form patterns or use small decorative pumpkins and gourds. Printable Vines
 
Science:
A pumpkin is a fruit that grows on a vine. Learn about other fruits and vegetables that grow on vines or about other fruits that we typically think of as vegetables such as tomatoes, peas, and cucumbers. Have a taste test!
Soak pumpkin seeds overnight. Cut them open so students can view the plant embryo hidden inside the seed.
Social Studies:
Visit a local pumpkin patch
Literacy:
Read the nursery rhyme 'Peter Peter Pumpkin Eater'
Read and enjoy the 'Pumpkins by the…' poem
Read and make a TLC craft to go along with the 'Five Little Pumpkins' poem….
Five Little Pumpkins
Five little pumpkins
Sitting on a gate
The first one side,
"Oh my, It's getting late."
The second one said,
"There are bats in the air."
The third one said,
"I don't care."
The fourth one said,
"Let's run and run and run."
The fifth one said,
"I'm ready for some fun."
Then whoooosh went the wind,
And out went the lights.
Five little pumpkins
rolled out of sight.
4. Pumpkin words – Children find the seed cutouts with the letters they need to form the word that matches the picture on each pumpkin
5. Sight Word Practice – Students color a seed in the pumpkin for each word they can read aloud to an adult.
6. Pumpkin Word Family Houses - Place a picture on each of four pumpkins. Children match seed shapes with either the pictures (which are on one side) or with words (on the other side) to each corresponding word family pumpkin house.